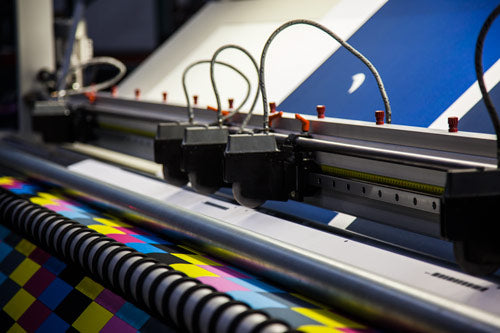 Dye Sublimation vs. Screen Printing: What's the Difference?
If you're in the market for all-over printing on a shirt or garment, you may be deciding between dye sublimation and screen printing. Which print method is best? Is screen printing the same as sublimation? 
When it comes to dye sublimation vs. screen printing, there are clear differences, each with advantages and disadvantages. Each method utilizes a special type of printer and a unique ink transfer process. Fabric type, print quantity needs and desired colors are also variables to consider when deciding between dye sublimation and screen-printed transfers.
Today we'll go in-depth into the difference between screen print and sublimation so you can determine which method is better for your needs.
What is Dye-Sublimation?
Dye sublimation is a waterless printing process in which special types of ink and a heat press infuse a design into a garment or other surface.
A design is digitally printed as a mirror image, using sublimation ink on special transfer paper. The design is then transferred to the material using a heat press, which opens the material's pores and transforms the ink from a solid to a gas. 
The heat causes the ink to penetrate the substrate, becoming part of the fabric rather than just sitting on top of it. This makes the designs "stretchable" and less likely to chip, fade or peel off.
Dye sublimation is best for: Fabrics made of 100% polyester or blends of at least 65% polyester, as well as certain nylon and nylon blend fabrics. Polyurethane based outdoor fabrics are also able to be printed using the digital dye-sublimation process.
Advantages of Dye-Sublimation
Creates vibrant, full-color designs including fluorescent colors.

Easy to care for, fade resistant, and bleachable.

Unlimited design flexibility -- designs can be placed anywhere without color limits.

Lasts longer, as it's lighter and more durable.

No additional setup costs for items ordered (or reordered) later.

Eco-friendly, using minimal amounts of dye and recycled paper and is a waterless process.
Disadvantages of Dye-Sublimation
Only works on synthetic materials like polyester -- sublimation cannot be used on cotton.

Sublimation is a great choice for custom projects. If you're looking to mass produce shirts for resale, dye sublimation may not be the best choice.

Sublimation works best on light colors. Darker materials will affect the sublimation color so effective colors will be limited. 
What is Screen Printing?
Screen printing is a process in which a squeegee is used to press silkscreen ink onto a garment through a stencil on a fine mesh screen. Screen printing can be done by hand or via an automated screen printing machine.
Unlike dye sublimation, designs are placed as a layer on top of the garment, requiring screening one color at a time. More ink is used in screen printing than other printing methods.
Screen printing is best for: Printing on flat surfaces, like 100% cotton shirts, tote bags, backpacks and glass.
Screen Printing: Pros
Cost-effective for large orders and single-color designs.

Can be done on most fabrics and any color material, light or dark.
Screen Printing: Cons
Due to lengthy setup times, small or custom orders are not practical for screen printing. 

Minimum order amounts are often required to make setup costs worthwhile. 

Colors and designs usually fade, crack, or peel over time.

Color variations are often limited.
Equipe: The Best Choice for Dye Sublimation Projects
Equipe Athletics specializes in dye sublimation on high-performance apparel for teams and individuals. We are a one-stop-shop for all your digital fabric printing needs, and have over 30 years of industry experience.
Our professionally calibrated dye sublimation printers allow us to color match with accuracy, ensuring your products turn out just how you envisioned them. We also use premium fabrics that are moisture-wicking, breathable and comfortable. 
We'd love to learn more about your custom project. Request a quote and get your design as a sample swatch.