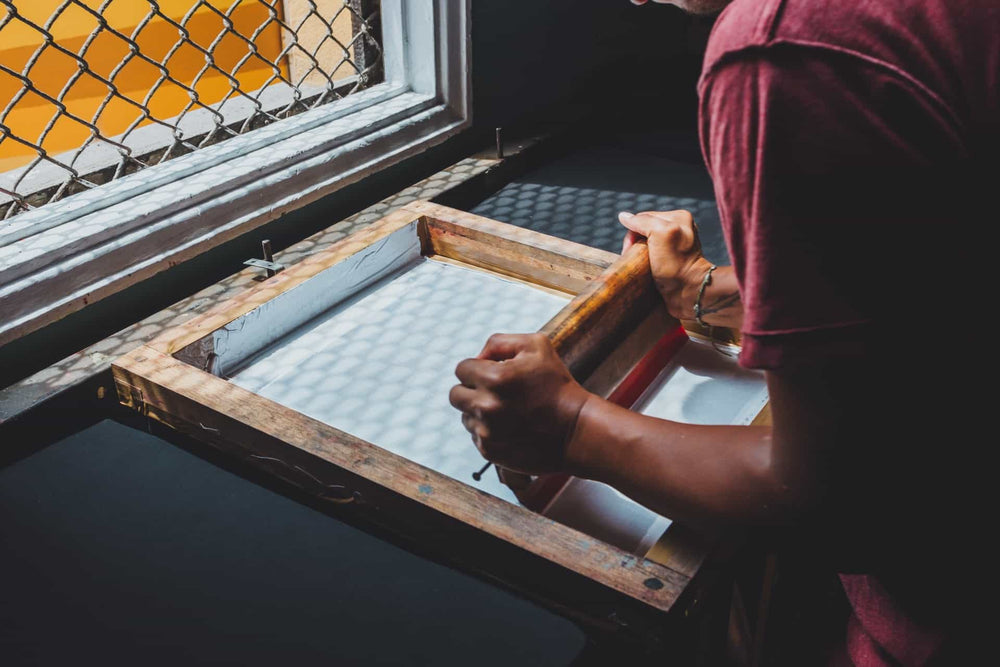 Screen Printing Vs. Heat Press: Differences & Uses
Whether you're planning an order of teamwear, leggings or face masks, you want a perfect final product. Part of that process involves an important choice: how to add your colors and graphics to the fabric. But when you're confronted with options like screen printing vs heat press, how do you decide between the two for the most high quality, cost-efficient result?
While screen printing allows you to produce items in bulk, heat press transfers can give you a bolder image. Each technique has its pros, cons and ideal uses—and knowing the differences between the two can make all the difference in achieving a vibrant piece.
In this short guide, we'll compare heat press transfer vs screen printing to give you a peek behind the clothing manufacturing curtain at these print methods.
What Is Screen Printing?
First, a little background. 
Screen printing—also called silk screening—is a fabric printing method that involves forcing ink through a fine mesh screen onto a garment. By allowing the ink to pass through some parts of the screen and not others, manufacturers create a reusable stencil.
Because the ink spreads across the entire screen, there needs to be one stencil for each color. With a laser-equipped machine, designers carefully line up each stencil, adding layers of color one at a time to produce the finished design.
The Pros and Cons of Screen Printing
Due to the specifics of the process, screen printing offers benefits like:
Efficient bulk ordering

– Once you create the screens for each color, you can reuse them over and over.
Vibrant colors

– Screen printing typically uses a thick, durable ink called Plastisol. It shows up clearly—even on darker fabrics—and lasts for countless washes.
However, the drawbacks of screen printing include:
Lengthy setup time

– The initial process of creating each stencil can be time-consuming. As such, screen printing isn't ideal for smaller orders.
Design limitations

– Because screen printing involves layering one color onto another, graphics must be relatively simple. When it comes to selecting the number of colors for the project, three or fewer colors work best.
What Is Heat Press Transfer?
If you've ever ironed a patch onto a denim jacket or bag, you've experience the heat transfer process in micro. Industrial heat press transferring takes this concept to another level. 
Through a combination of intense heat and pressure, a machine literally presses your design onto a garment. There are two distinct types of heat transfer: vinyl transfer and digital transfer.
Vinyl Transfer
The vinyl heat transfer process starts with a machine that cuts your graphic elements out of colored pieces of vinyl. Once each letter, number and logo is ready, the designer rearranges the pieces to create an image on top of the garment.
A specialized heat press machine then applies heat and pressure to adhere the graphic to the item.
Digital Transfer
While the vinyl transfer process involves pressing multiple layers of vinyl onto a garment, the digital transfer process only requires one layer. Manufacturers use a high-quality printer to print your entire graphic on special paper. They then place the image onto the garment, using a heat press to secure it to the product.
The Pros and Cons of Heat Press Transfer
Regardless of the type of heat transfer process you use, the technique comes with advantages and disadvantages.
The benefits of using a heat press include:
Endless design options

– Creating complex designs full of colored vinyl is no problem. Multi-colored designs are that much easier to bring to life. 
Faithful reproductions

– Manufacturers print your design directly onto transfer paper, so what you send off is

exactly

what you get.
Some drawbacks of the heat press technique are:
Reduced durability

– Because the heat transfer process overlays your graphic onto the material (rather than integrating it

into

the fabric), images can crack or fade after multiple washes.
Limited garment choices

– Heat transfers don't show up as well on darker fabrics. If you want the best quality from this type of printing, you're limited to lighter tanks and tees.
Screen Printing vs. Heat Press
To summarize the screen print vs heat press debate, the main differences have to do with:
The process

– Screen printing uses wet ink, while heat transfers use vinyl or special paper.
Time

– Screen printing has a longer initial setup time, but once you've made your stencils, scaling up is simple. Heat transfers are quick to set up, but pressing the graphic onto each unit requires time and care.
Colors

– Screen printing limits you to three colors or less; heat transfers give you more options.
Longevity

– Screen-printed designs hold up since the ink soaks into the fabric. Heat transferred graphics are more likely to crack over time.
Cost

– Bulk orders of screen-printed products usually cost less than the same amount of heat transfer garments.
When to Use Screen Printing
Opt for screen printing over heat transfer if you're:
Ordering hundreds or thousands of the same piece

Looking for simple designs that will last

Printing on darkly-colored materials
When to Use Heat Press Transfer
Choose the heat press process over screen printing if you're:
Printing onto bulky or oddly-shaped items (such as bags and caps)

Producing individualized pieces (such as personalized uniforms or limited edition pieces)

Ordering small quantities

Reproducing graphics with more than three colors
Equipe Athletic: The Best Printing Option for Apparel
Ultimately, screen printing and heat press transfers both have their uses. Screen printing allows you to mass-produce products at an affordable rate, while heat press gives you more control over your design.
If you're looking for details on heat transfer and screen printing, chances are you're planning a high-quality project of your own. That's where we come in.
From team uniforms to yoga wear, swimwear and beyond, leading brands trust Equipe to create the perfect garment every time—and you can, too. Using a printing process called dye-sublimation that combines the efficiency of screen printing with the full-color flexibility of heat press transferring, we bring your vision to life.
Request a quote
for your project today to see the dye-sublimation difference!