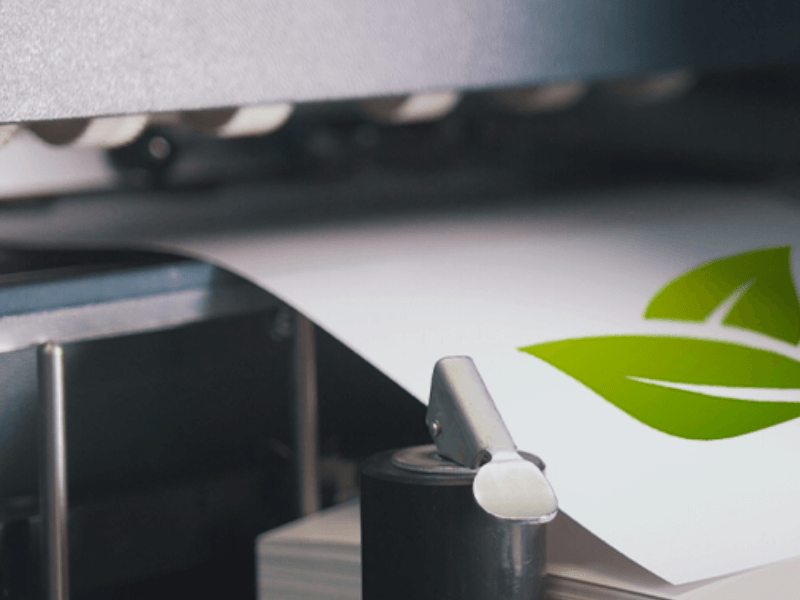 Your Guide to Eco-Friendly Digital Fabric Printing
Printing methods have evolved over the years, especially in the textile industry. For example, digital fabric printing creates brilliant, color-rich prints while employing eco-friendly technology that uses recyclable materials and creates less waste. But is digital printing sustainable?
Today we'll talk about eco-friendly digital fabric printing techniques, their benefits, and trends to look for on the horizon.
How Is Digital Fabric Printing Eco-Friendly?
The dyes, toxic chemicals and energy traditionally used in textile printing have not exactly been environmentally friendly. In addition, large runs that resulted in unsold prints were a massive waste of money, time and materials. 
However, digital textile printing has reduced the impact of these methods by offsetting their effects with the improved print processes and technologies we'll cover in this article.
Eco-Friendly Fabric Printing Methods
Two methods have altered printing methods substantially: digital printing techniques and CAD/CAM software. Let's take a closer look at each one.
Digital Printing Technologies
Digital printing entails printing digital-based images directly onto various media without using printing plates.
An excellent example of an eco-friendly digital printing technology is dye sublimation. It uses recycled paper, less dye than screen printing and provides the ability to produce small and large runs for each print. Other benefits include quick drying times and reduced wrinkling, which makes dye sublimation one of the best and most eco-friendly print options.
Digital printing techniques save water, materials and energy in the following ways:
Electronic proofs eliminate the waste created by physical samples generated through the printing process, saving materials and energy. 

Digital dye sublimation inks use less than ten liters of water per meter,

saving more than 40 billion liters of water

in 2020. In addition,

digital printing uses just 10% of the ink used for screen printing

. Heat fixation eliminates extra water used for steaming and washing garments in the post-processing stage. 

Producing on-demand is ideal for small, custom job runs. You can create the exact item quantity needed, eliminating waste that often goes straight to landfills.
CAD/CAM Software For Design and Production
CAD/CAM (computer-aided design/computer-aided manufacturing) software reduces waste by using digital sampling, automated print placement and grading. 
These methods cut down on material waste by determining the most effective ways to place patterns, making the most of available fabric real estate.
4 Benefits of Eco-Friendly Fabric Printing Methods 
Being environmentally conscious and focusing on sustainability helps fight climate change while using resources wisely. The following are four benefits of eco-friendly fabric printing methods.
1. Waterless 
The fashion industry is the second-largest consumer of the world's water supply. In addition, textile dyeing is the world's second-largest water polluter, damaging 20% of the earth's water sources. Leftover water from traditional textile dyeing processes is often dumped into ditches, streams or rivers.
The print industry has reduced this environmental impact by moving toward inkjet technology, creating waterless processes that no longer need pretreatments, steaming or washing.
2. Uses Electronic Proofs
Using electronic proofs in place of job runs reduces energy and material waste while providing clients with accurate samples produced electronically.
3. Uses Safer Chemicals
The printing industry has moved away from petroleum-based inks that release unstable organic compounds, causing poor air quality and health concerns for printing employees. Newer water and plant-based inks do not use petroleum-based carriers that traditional, solvent-based inks use. 
4. Saves Energy & Reduces Your Carbon Footprint
According to the World Economic Forum, the fashion industry produces 10% of the world's carbon emissions. Digital fabric printing methods reduce carbon footprint, save energy, create no pollutants or toxic fumes, and reduce waste.
Eco-Friendly Printing Trends
"Circular economy" in design is a newer term that focuses on being aware of current and future uses of products. Being intentional about how a product's lifecycle will begin and end and what it can still become forces manufacturers and retailers to think creatively about sustainable fabric printing methods. 
"Reduce, reuse, recycle" was just the beginning of circular design awareness. By choosing sustainable textiles and printing methods and re-evaluating waste products, we can significantly reduce our carbon footprint and environmental impact.
Equipe: Your Eco-Friendly Digital Printing Partner
Equipe Athletics specializes in dye sublimation on high-performance apparel for teams and individuals. We are a one-stop shop for all your digital fabric printing needs and have over 30 years of industry experience.
We're passionate about eco-friendly printing methods and love offering customers the option to go green with their printing projects. Request a quote and get your design as a sample swatch today.